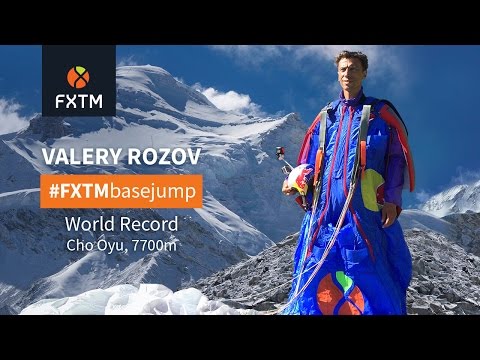 Valery Rozov jumps from Cho Oyu
Legendary Red Bull athlete Valery Rozov, sets a new world-record with his jump from Cho Oyu in China as part of the FXTMbasejump project.
Following the 31-day expedition to the exit spot, on the 5th of October 2016, Valery BASE jumped 7700m above sea level, setting a new record for the highest BASE jump and proving what can be achieved through effective preparation and training, proper risk management and constantly having the inspiration to push the limits of possibilities higher.
Who is Valery Rozov?
Valery Rozov (born in Nizhny Novgorod, December 26, 1964) is a Russian BASE jumper, who previously on May 5, 2013, jumped off Changtse (the north peak of the Mount Everest massif) from a height of 7,220 metres. Using a specially-developed Red Bull wing suit, he glided down to the Rongbuk glacier more than 1,000 meters below, setting a new world record for highest base jump.
Cho Oyu Mountain
Cho Oyu is the sixth highest mountain in the world at 8,188 metres above sea level. Cho Oyu means "Turquoise Goddess" in Tibetan. The mountain is the westernmost major peak of the Khumbu sub-section of the Mahalangur Himalaya 20 km west of Mount Everest. The mountain stands on the China-Nepal border.
Just a few kilometres west of Cho Oyu is Nangpa La, a glaciated pass that serves as the main trading route between the Tibetans and the Khumbu's Sherpas. This pass separates the Khumbu and Rolwaling Himalayas. Due to its proximity to this pass and the generally moderate slopes of the standard northwest ridge route, Cho Oyu is considered the easiest 8,000 metre peak to climb. It is a popular objective for professionally guided parties.
Mountain Cho Oyu was first attempted in 1952 by an expedition organised and financed by the Joint Himalayan Committee of Great Britain as preparation for an attempt on Mount Everest the following year. The expedition was led by Eric Shipton and included Edmund Hillary and Tom Bourdillon. A foray by Hillary and George Lowe was stopped due to technical difficulties and avalanche danger at an ice cliff above 6,650 m and a report of Chinese troops a short distance across the border influenced Shipton to retreat from the mountain rather than continue to attempt to summit.
The mountain was first climbed on October 19, 1954, via the north-west ridge by Herbert Tichy, Joseph Jöchler and Sherpa Pasang Dawa Lama of an Austrian expedition. Cho Oyu was the fifth 8000 metre peak to be climbed, after Annapurna in June 1950, Mount Everest in May 1953, Nanga Parbat in July 1953 and K2 in July 1954. Until the ascent of Mount Everest by Reinhold Messner and Peter Habeler in 1978, this was the highest peak climbed without supplemental oxygen.