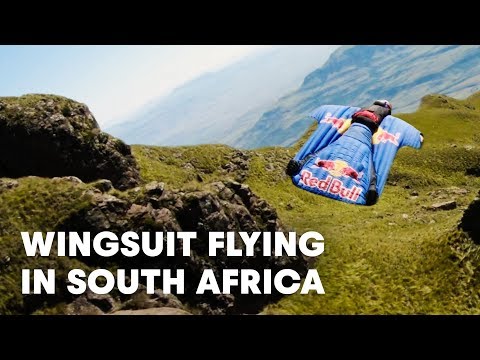 The Red Bull Air Force takes the skies and head wingsuit flying down Sentinel and the Eastern Buttress in South Africa. On their journey, they attempt to base jump and wingsuit fly various iconic locations around the country.
The Drakensberg mountain range stretches over 1000 km across South Africa and Lesotho, with its highest peak at 11, 424 feet. This highest portion of the Great Escarpment is known by the local Zulu community as uKhahlamba, Barrier of Spears. The place is renowned for its dramatic peaks, pinnacles and valleys. Experience the Red Bull Air Force soar through this mythical wilderness and watch the backstory behind the first-ever wingsuit flight from two of its most alluring landmarks.
The high slopes are hard to reach so the environment is fairly undamaged. However, tourism in the Drakensberg is developing, with a variety of hiking trails, hotels and resorts appearing on the slopes. Most of the higher South African parts of the range have been designated as game reserves or wilderness areas. Of these the uKhahlamba Drakensberg Park was listed by UNESCO in 2000 as a World Heritage site. The park is also in the List of Wetlands of International Importance (under the Ramsar Convention). The Royal Natal National Park, which contains some of the higher peaks, is part of this large park complex. Adjacent to the Ukhahlamba Drakensberg World Heritage Site is the 1900 ha Allendale Mountain Reserve which is the largest private reserve adjoining the World Heritage Site and is found in the accessible Kamberg area, the heart of the historic San (Bushman) painting region of the Ukhahlamba.