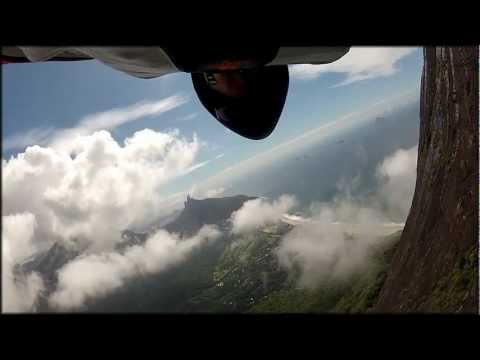 Pedra da Gavea, Rio de Janeiro
Mikolaj Twin Wingsuit Base Jump in Brazil
Pedra da Gávea is a mountain in Tijuca Forest, Rio de Janeiro, Brazil. Composed of granite and gneiss, its elevation is 844 metres (2,769 ft), making it one of the highest mountains in the world that ends directly in the ocean. Trails on the mountain were opened up by the local farming population in the early 1800s; today, the site is under the administration of the Tijuca National Park.
The mountain's name translates as Rock of the Topsail, and was given to it during the expedition of Captain Gaspar de Lemos, begun in 1501, and in which the Rio de Janeiro bay (today Guanabara Bay, but after which the city was named) also received its name. The mountain, one of the first in Brazil to be named in Portuguese, was named by the expedition's sailors, who compared its silhouette to that of the shape of a topsail of a carrack upon sighting it on January 1, 1502. That name in turn came to be given to the Gávea area of the city of Rio de Janeiro.
Differential weathering on one side of the rock has created what is described as a stylized human face. Markings on another face of the rock have been described as an inscription. Geologists and scientists are nearly in agreement that the "inscription" is the result of erosion and that the "face" is a product of pareidolia. Furthermore, the consensus of archaeologists and scholars in Brazil is that the mountain should not be viewed as an archaeological site.
Great wingsuit base jump of Mikolaj Twin from Pedra da Gávea in Rio de Janeiro, Brazil.