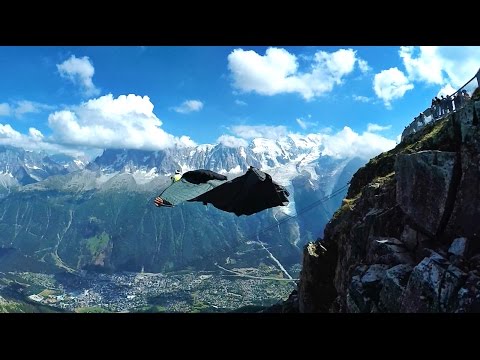 Brandon Mikesell
Live Your Dream – Wingsuit Motivation
Wingsuiting done in France. Most of the footage was filmed in or around Brevent – Chamonix.
Brandon Mikesell began his journey to become a professional wingsuit flyer when he was 23 years old. He dedicates everyday to jumping off of cliffs, buildings, helicopters, and planes. Some might call him crazy, but he says he is just like any other regular guy.
Brandon has worked with companies like GoPro, Red Bull Air Force, Garmin, Bear Grylls, and many more to release his awesome adventures. He continues to search for long flying lines down different mountain terrain around the world. However, most recently he decided to take his flights into the urban environment and fly between city skyscrapers and buildings.
Chamonix is a commune in the Haute-Savoie département in the Auvergne-Rhône-Alpes region in south-eastern France. It was the site of the first Winter Olympics in 1924.
Situated near the massive peaks of the Aiguilles Rouges and most notably the Aiguille du Midi, Chamonix is one of the oldest ski resorts in France and is known as the "gateway to the European Cascades." The north side of the summit of Mont Blanc, and therefore the summit itself are part of the village of Chamonix.
To the south side, the situation is different depending on the country. Italy considers that the border passes through the top. France considers that the boundary runs along the rocky Tournette under the summit cap, placing it entirely in French territory. The south side was in France, assigned to the commune of Saint-Gervais-les-Bains sharing the summit with its neighbor Chamonix. It is this situation "for France," which is found on the French IGN maps.
The Chamonix commune is well known and loved by skiers and mountain enthusiasts of all types, and via the cable car lift to the Aiguille du Midi it is possible to access the world-famous off-piste skirun of the Vallée Blanche. With an area of 245 km2, Chamonix is the fourth largest commune in mainland France.
Chamonix is a winter sports resort town. As the highest European mountain west of Russia, Mont Blanc attracts mountain climbers. There is a cable car up to the 3,842 m Aiguille du Midi. Constructed in 1955, it was then the highest cable car in the world and remains the highest vertical ascent cable car in the world.