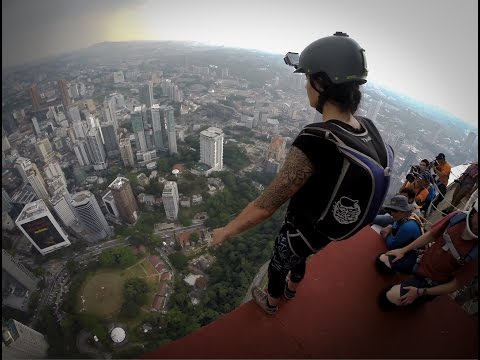 BASE jump: Malaysia
Clair Marie aka BASE girl
Clair Marie aka BASE girl spent 1 month BASE jumping all througout Malaysia. Jumping Sibu, Sabah and KL on the Malaysian BASE tour. Check out more videos and pictures.
Clair Marie is a professional adventure sports athlete and a passionate Vegan.
A top female BASE jumper, skydiver, stunt woman for commercials/movies, model, enduro mountain bike racer, climber and Motivational/public Speaker.
Clair is an incredibly accomplished BASE jumpers and one of the top female athletes in the sport! In addition she manages to balance her life as a professional BASE jumper and a successful career as a model and stunt woman, appearing in commercials, print advertisements and online media.
She became a featured athlete through EpicTv in 2013 and continues to produce BASE videos of her travels and experiences.