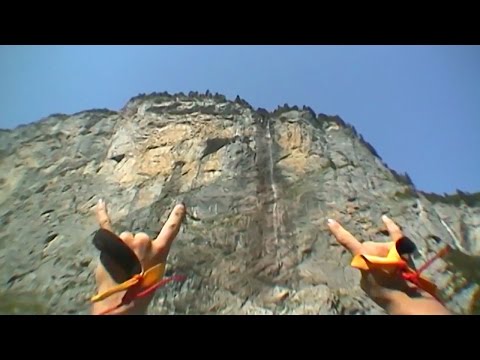 Old VHS Footage of Shane McConkey
Take a look back in time with Shane McConkey as he BASE jumps from a cliff in Lauterbrunnen. This segment and many more are featured in the film "McConkey", now available on Red Bull TV!
Fly in Peace, Shane – "You have one life. Live it."
Shane McConkey (December 30, 1969 – March 26, 2009) was a professional skier and BASE jumper. He was born in Vancouver, was eventually based in Squaw Valley, California, but because he never identified with a single place due to his itinerant childhood, was "from" Boulder, Colorado, where he started his professional skiing career and attended the University of Colorado Boulder before dropping out of college.
He won numerous awards and competitions. McConkey started as a competitive ski racer, but moved on to be featured in a long line of extreme skiing movies. McConkey was known for combining BASE jumping with skiing, as seen in such feats as skiing into a BASE jump off the Eiger. McConkey went to Burke Mountain Academy. He was also known for his contributions to ski design, notably being the father of reverse sidecut and reverse camber skis (aka: skis with rocker); first mounting bindings onto water skis for use in Alaska, then with the Volant Spatula and, more recently, the K2 Pontoon ski design. McConkey's high-speed chairlift and ski area at Park City Mountain Resort are named after his father, Jim McConkey, who was an early proponent of extreme skiing in the U.S. On April 2, 2011 Shane McConkey was inducted into the U.S. Ski and Snowboard Hall of fame along with other Tahoe skiers, Daron Rahlves and Glen Plake.
On March 26, 2009, Shane McConkey died while executing a ski-BASE jump in the Dolomite Mountains in Italy. One of his skis failed to release, sending him into a spin. After he corrected the problem, it was too late to deploy his parachute.