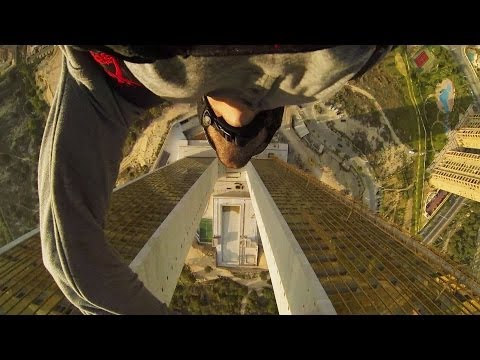 Jokke Sommer in Benidorm
Jokke Sommer and friends adventure into Spain to jump off buildings in Benidorm.
Jokke Sommer is a professional skydiver and BASE jumper. He has always been fascinated by everything that could fly and dreamed one day to fly himself. When he matured his childhood dream faded and he started a career in Motocross. This sport became his biggest passion and an important part of his youth. After several years of riding, he started to Freestyle and built his own FMX park where he and his friends met to ride and fly.
During the summer of 2007 he and his close friend Jørgen decided, to start skydiving and they completed an AFF skydiving course. He sold his dirt bikes and became licensed skydiver. In 2008 he travelled to the United States and completed 250 jumps in two months to gain the required experience. After watching dozens of wing-suit flying videos, he had no doubt that this was what he wanted to do.
His non-jumping spare time was spent researching BASE Jumping
After returning to Norway he signed up for a BASE jumping course and travelled to Kjerag to make his first jump. Starting to BASE jump changed his life and his determination made him an expert athlete in the sport.
Benidorm is a city in the province of Alicante in eastern Spain, on the Mediterranean coast. Until the 1960s, Benidorm was a small fishing village; today it is known for its hotel industry, beaches and skyscrapers. According to the 2014 census, Benidorm has a permanent population of 69,010 inhabitants, making it the fifth most populous town in the Alicante province. Benidorm has the most high-rise buildings per capita in the world.